Saurian DevLog #51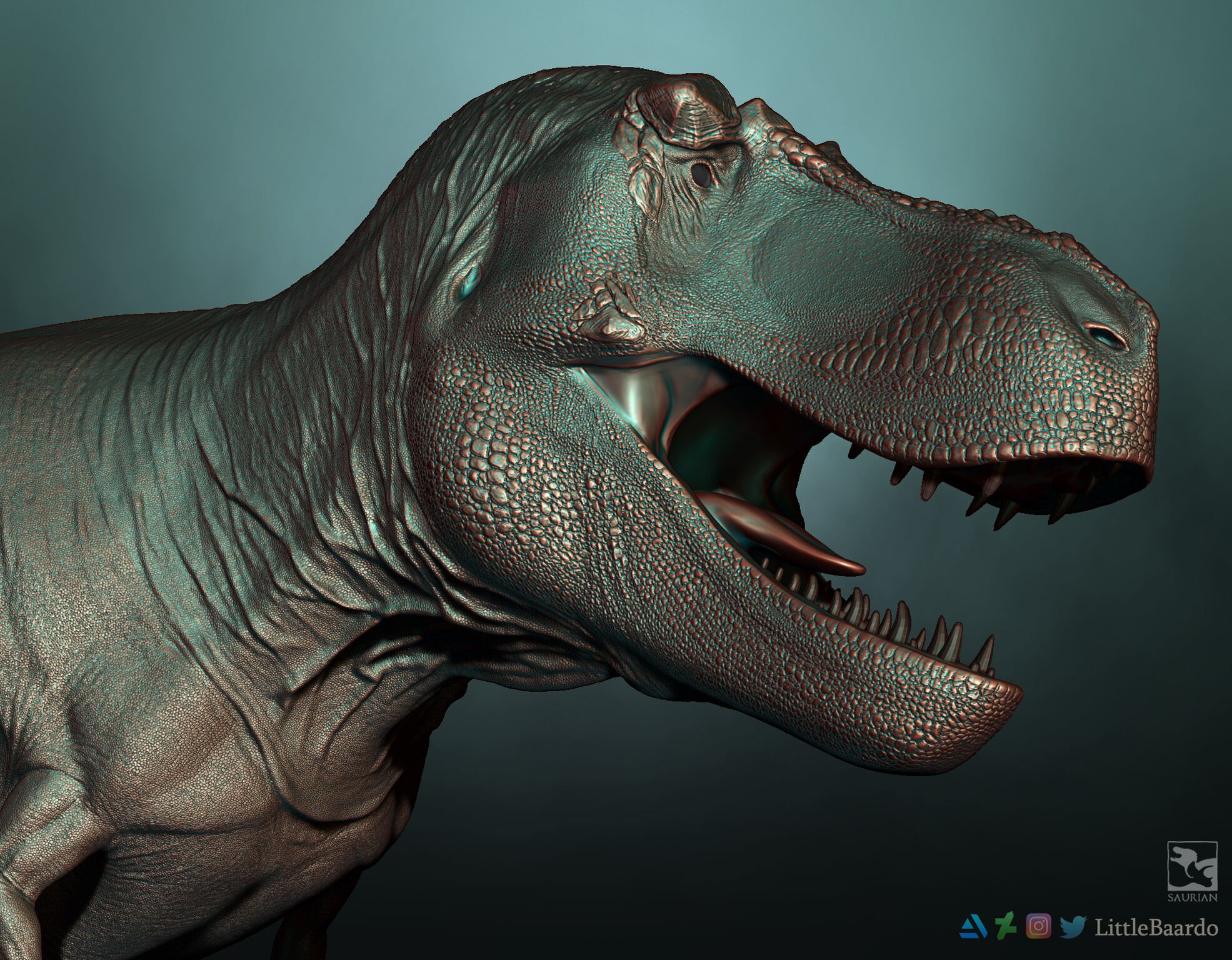 While the patch re-release is imminent (pending some final feedback), we've got some news relating to future content from our programmers and artists.
Jake
Over the last two weeks RJ and I have been combining our powers and our gusto to make the ultimate Tyrannosaurus reconstruction. RJ has a replica of Stan's skull which happens to be the specimen we've based our adult tyrannosaur on so we went through the process of photo scanning it to utilize inside Zbrush. This was important for making sure the forms on the skull were correct in the life restoration. It didn't need to be ultra detailed, but it needed to be good enough to give us a reliable read on the more subtle shapes. Once we had the skull we took the half that was less distorted and mirrored it to find a more symmetrical skull which was used in conjunction with the sculpt to get a better and more accurate look for the rex. From there it was a lot of following the concept art and consulting the references RJ provided. The high poly sculpt is just about done, hopefully next dev log there will be some textured renders to show.
RJ
This time the bulk of my work was really just fixing Jake's problems. In order to remove the incredible margin of error in Jake's sculpting "techniques", I made a scale map from my concept art illustration of our new T. rex that Jakeniel could project onto the model. I will be posting more of the final concept art soon.
Henry
Of all the problems that need to be tackled before flooding can be introduced to our rendition of Hell Creek, the trickiest to solve is data for NPCs. If you recall a devlog from way back, we use thousands of sampled points to represent our shorelines -- but if the world floods and the shoreline changes, we need to make sure that those data points can change with it so that AI animals can continue to interact correctly with the water.

While there are several ways to tackle this problem, I chose to pre-calculate shoreline data at various sampled water heights so they can be switched between with no performance cost. Using a shader and camera, three textures are generated which iteratively demarcate the shoreline; the pixels from the final texture are then extrapolated into world positions, processed, and saved. This process is repeated many times until the desired number of samples between the maximum and minimum water levels have been gathered. The result looks like this:
Nitty-gritty aside, this development opens the door to flooding being implemented sooner rather than later. As you can see, the terrain changes drastically as it floods, and will have a pretty big impact on world navigation and gameplay. Expect more on this soon!
That's all for this devlog. Thanks for reading!